2020 as seen in 1970. We are in the middle of the cold war. Four astronauts representing Europe, the USA, China and the Soviet Union enter a space station. Their common mission is to disarm a mechanism that, via a virus, can destroy a large part of humanity. Can they trust each other? Who triggered this mechanism? Who is the manipulator? One of them or the AI of the station which, seeks to save our planet from human pollution? This virtual reality escape game will allow each player to find an answer to these questions and, in the end, to choose his side.
In this game, players must coordinate their progress in a secret laboratory. However, without knowing it, they are subjected to psychological aggression designed to sow doubt and mistrust and develop mutual distrust. Only if they manage to perceive the evil game of AI, work together and solve the difficult logic puzzles and riddles will they be able to escape!
"2040 Critical Mistrust" is a VR Escape Game for Local Based Entertainment providers. It is produced by the Compagnie des Martingales and the Berliner company GameExpro with the support of BMVI Computerspieleförderung des Bundes.
Prototype expected to be released March 2021, Game commercialization, January 2022.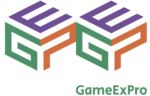 Émilie, a game about bullying at school, written by Coralie Chaffanjon and Éric Viennot, the prototype of which received funding from the Région Nouvelle Aquitaine.
Vetronom is the first video game of the young german company Ludopium GmbH. This game is a co production of Arte France and la Compagnie des Martingales with the support of SpielFabrique GmbH.
Vectronom is a music platformer. The game combines challenging platformer with rhythm based gameplay. The architecture of each level changes with the music, players have to memorize patterns and overcome obstacles while dancing through the game world. Unlike other beat matching games where the player has to follow prompts, in Vectronom players have a larger degree of freedom while playing. Players can often take many different routes or go for different playing styles to succeed. The game Vectronom having been nominated for SXSW, La Compagnie des Martingales, co-producer of this game has obtained the support of the French Embassy in the USA, via the "French Immersion" program to finance the travel of two members of the development team.
Vetronom is the first video game of the young german company Ludopium GmbH. This game is a co production of Arte France and la Compagnie des Martingales with the support of SpielFabrique GmbH.

---
Appel à projets
La Compagnie des Martingales, in partnership with SpielFabrique, Cnam Enjmin, Ubisoft Blue Byte with the support of the New Aquitaine Region, the NRW Region, the OFAJ and Pictanovo offers to three young companies, designing innovative video games and located in the Nouvelle Aquitaine region, a program to support their development.
This program is composed of:
An online support over 9 months:
• Identification of studio needs, feedback on strategy and market positioning
• Support on the commercial development of the project
• Advice on financing strategy
• Support for the search for potential publishers
• Assistance in the communication strategy
Depending on needs, access to experts and the international network of SpielFabrique, Cnam Enjmin and La Compagnie des Martingales.

Participation to the workshop taking place in Düsseldorf on March 26 and 27 in collaboration with Ubisoft Blueb Byte and with the other studios of SpielFabrique acceleration program with the following contents:
Game Design by Stéphane Natkin
UX by Ivana Randelshofer
Financing of Indie Games by Thierry Baujard
Publishing Strategy by Soren Lass
Communication Strategy and Influencers by Tino Hahn
One-to-one meetings with experts: Karsten Lehmann (Ubisoft Blue Byte), Ivana Randelshofer (Ubisoft Blue Byte), Soren Lass (Interactive Denmark), Kevin Scatton (Plug In Digital), Stéphane Natkin (Compagnie des Martingales), Tino Hahn (2nd Wave)
Support on the Amaze festival (April 11, 2019) in Berlin and/or Gamescom in Cologne (August 19) including meetings with publishers and investors as part of meetings organized by SpielFabrique
Participation to the workshop held in Angoulême in September/October in collaboration with the Enjmin, on the themes of financing and publishing.
Preparation and specific support for applications for public funding in Europe and search for co-producers
Access to SpielFabrique's European market intelligence and financing network
To apply, send, before March 18, 2019 to Stéphane Natkin, a presentation written in English including:
• The presentation of your company: structure, composition, short and medium term objectives, current and planned financing, (max 5 slides)
• A pitch of your game(s) in development with budget and financing plan (max 5 slides),
• Your motivations to apply for this support program (1 to 2 slides)
• If possible a trailer or an ingame of the game prototype, accessible on Youtube.
Pierre Feuille Studio (https://pierrefeuille.studio/) is a young studio, located in Bordeaux, that develops Homelosta promising narrative game
BlackFlag http://studioblackflag.com is also located in Bordeaux developing "Orphan Age" a dystopian life sim game where you play not as the soldiers of war, but as the children left behind.